82 reviews
Ive taken many tours on the waters of San Francisco Bay, but this was by far the BEST!!!! I highly recommend this tour!!! Reviewed by:Lanette D.,
USA, May 2014 Read all 82 reviews » View recent photos »
"Yay! The Bay!"
Adult Child
Lowest Price From $40.00 USD $19.99 USD
Enjoy all the sites of San Francisco on our 1.5-hour sail through beautiful San Francisco Bay. Cruise past Alcatraz Island on our way to the Golden Gate Bridge, where we'll look for sea lions before sailing along the waterfront.
100% Price Guarantee: We will refund the difference if you find a lower price online or at your destination. Find out more.
Recent photos from fellow travelers
Here are recent candid photos of the San Francisco Bay Sailing Catamaran Adventure (Sailing) If you want to share your own tour photos, simply email your photos to tourphotos@thereservationcenter.com with your Booking ID Number. Please note: We only accept photos from actual, confirmed travelers to San Francisco who purchased this tour / activity directly from us. Thanks in advance for sharing!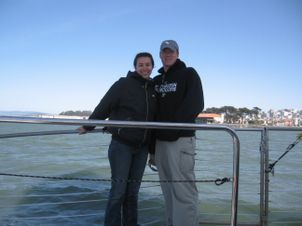 View of the city from the boat on SF Bay
Standing on the side of the cruise boat to get a good picture of us with San Francisco in the background.
Photo by: Diana B , USA, June 2008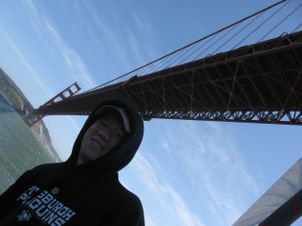 Sailing under the Golden Gate Bridge
Picture of Rusty as we are sailing under the Golden Gate Bridge.
Photo by: Diana B , USA, June 2008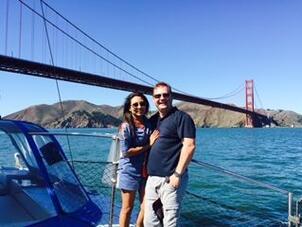 Sailing Trip
Husband and I enjoying a nice day out on the Bay. Thank you!
Photo by: Naomi S , October 2014
A view from outside the Golden Gate!
The best part of the trip was looking back at the city from outside of the Golden Gate Bridge; once we turned around and had the wind at out backs, it was an easy return to port!
Photo by: Jen K , September 2014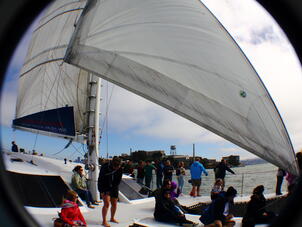 the catamaran with people
to give you a good idea of the space on the catamaran and how people and quot;sit and quot; on it (there's also seating behind the glass, inside)
Photo by: Allison S , August 2014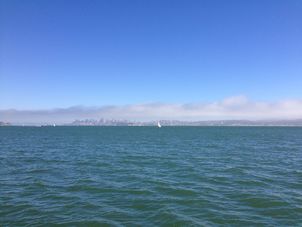 The View
The View
Photo by: Jim D , July 2014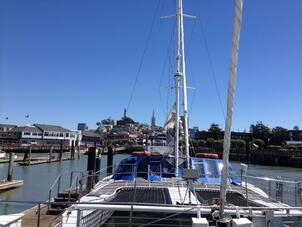 The Boat
The Boat
Photo by: Jim D , July 2014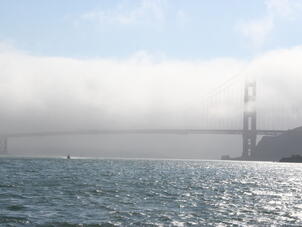 2012_09_24_0672
The fog rolling in around the bridge
Photo by: Erin N , October 2012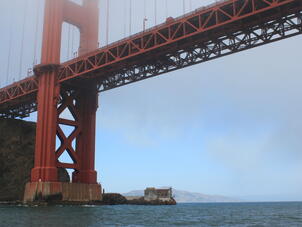 2012_09_24_0683
Sailing under the Golden Gate Bridge
Photo by: Erin N , October 2012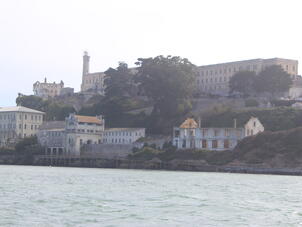 2012_09_24_0641
Alcatraz from the Bay
Photo by: Erin N , October 2012